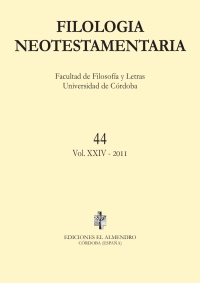 University of Córdoba.
The FILOLOGÍA NEOTESTAMENTARIA journal is the result of initiative taken at the Chair of Greek Philology of the Department of Antiquities of the University of Córdoba, Spain.
Within its Scope lies every aspect of New Testament Greek philology, namely textual criticism, grammar, semantics, lexicography and eventually semiotics and its relationship with Classical or Hellenistic Greek. It is published in Córdoba (Spain) by EDICIONES EL ALMENDRO DE CÓRDOBA, SL once a year (September).
Editor: JESÚS PELÁEZ, STANLEY E. PORTER and LAUTARO ROIG LAZILLOTTA

Board of Editors: C.B. AMPHOUX (France); N. BAUMERT (Germany); D.A. BLACK (USA); F.E. BRENK (Italy); J.K. ELLIOTT (United Kingdom); A. HILHORST (The Netherlands); G.H.R. HORSLEY (Australia); J.A.L. LEE (Australia); C. MARUCCI (Italy); G. MUSSIES (The Netherlands); D. PARKER (United Kingdom); A. PIÑERO (Spain); S.E. PORTER (Canada); M. SILVA (USA); S. WONG (Hong Kong).

Review Editor: L. Roig Lazillotta
Address for all correspondence related to the journal:
FILOLOGIA NEOTESTAMENTARIA
Apartado de correos 5.066
14006 CORDOBA (SPAIN)
E-mail: filneot@elalmendro.org
For information about subscriptions to Filología Neotestamentaria or about sending books for review, please click here.
Subscription rates for foreing countries: 50 euros / Spain: 40 euros
You can also find the complete collection of Filología Neotestamentaria at the Logos.com site
| | |
| --- | --- |
| ISSN 0214 2996 | © Filología Neotestamentaria 2016 |